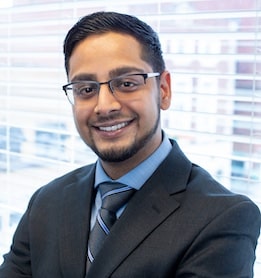 About Chirag Desai
Attorney
Chirag Desai is a young, zealous attorney with a bright future ahead of him. Chirag practices primarily in the areas of employment law and personal injury. His main areas of focus are; sexual harassment in the workplace, wrongful termination, and workplace discrimination/ retaliation claims. Chirag also routinely represents victims of car accidents and workplace accidents. He is great at earning the trust and respect of his clients and advocating passionately on behalf of them.
Chirag is a May 2016, graduate of the West Virginia University College of Law. During his time in law school, Chirag realized his talent and passion for courtroom oral advocacy. He was selected on various trial teams to represent the WVU College of Law at national trial competitions. In his third year, Chirag practiced as a student attorney of the West Virginia University's Clinical Law General Litigation program by providing free legal representation to indigent clients.
Before joining our firm, Chirag worked for a small boutique law firm in Morgantown, WV, practicing in the areas of personal injury and employment law. During his time in practice, Chirag has provided his clients with quality legal representation, and achieved satisfactory results.  Outside of his law practice, Chirag enjoys traveling and adventuring with his girlfriend, Jenna, and their two dogs, Ava and Dez.
EDUCATION
The University of North Carolina at Charlotte, B.A., 2012
West Virginia University College of Law, J.D., 2016
AWARDS
AVVO 2018 Clients' Choice Award
ORGANIZATIONS
West Virginia State Bar
West Virginia Employment Lawyers Association
To find out how we can help you with your personal injury case,
We offer free, confidential case evaluations.
contact us online or by calling (304) 470-8441
WHAT DAMAGES CAN BE RECOVERED IN A PERSONAL INJURY CLAIM?
Every situation is unique and, therefore, the damages that you may be able to recover after an accident can vary quite drastically. That being said, many people who have been injured as a result of someone else's negligence find that they are entitled to compensation for certain damages. This compensation is meant to help unfairly injured victims obtain the treatment they need to move forward from the accident, free from undue financial strain.
In most cases, victims of negligence are able to recover damages for some or all of the following:
Cost of medical treatment, both current and future
Fees incurred from ambulance rides and/or hospital stays
Lost income/wages from time taken off work to obtain treatment
Physical pain and emotional/mental distress and suffering
Ongoing medical care, including physical rehabilitation therapy
Loss of enjoyment or decreased quality of life
Furthermore, if your loved one was killed as a result of another person, company, or entity's negligent actions, you may be able to recover damages such as medical treatment, funeral costs, loss of companionship, and more.
LET OUR FIRM ACT AS YOUR ADVOCATE
For many, the legal process of filing and pursuing a personal injury claim is overwhelming. When you trust your case to the Clarksburg personal injury lawyers at Goddard & Wagoner, PLLC, we'll handle every aspect of your recovery so that you can focus on getting the treatment and care you need. Our team offers personalized legal counsel and uncompromising representation. Whether we settle your case before trial or take on the negligent parties in litigation, you can rest assured that we will aggressively advocate for you and your rights.
OUR CASE RESULTS
LEARN MORE ABOUT HOW WE'VE HELPED PEOPLE LIKE YOU.
At Goddard & Wagoner, PLLC, we fight for the full, fair recovery our clients are owed. We've helped numerous individuals and their families
successfully obtain just settlements and verdicts throughout the state of West Virginia.
Our proven track record of success speaks for itself.
CONTACT US TODAY!
DON'T WAIT TO PURSUE THE COMPENSATION YOU DESERVE.