EMPLOYMENT LAW ATTORNEY IN WEST VIRGINIA
DISCRIMINATION DOESN'T WORK. CALL OUR FIRM TODAY.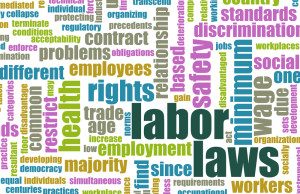 IF YOU HAVE BEEN A VICTIM OF WORKPLACE DISCRIMINATION, RETALIATION, AND/OR SEXUAL HARASSMENT. CALL OUR FIRM TODAY. WE ARE READY AND WILLING TO FIGHT TO PROTECT YOUR EMPLOYMENT LAW RIGHTS
West Virginia law—not to mention United States law—strictly prohibits workplace discrimination and harassment based on age, sex/gender, race, religion, or disability. By definition, this includes sexual harassment. Yet, harassment and discrimination still happen in West Virginia workplaces almost every day.
If unlawful discrimination, retaliation, and/or sexual harassment have kept you from being hired or promoted, has led to your termination, or has created a hostile working environment, a Clarksburg and Morgantown employment law attorney at Goddard Law PLLC can help. We are skilled at representing all types of workers in all manner of employment cases, and we have an in-depth knowledge of state and federal employment law. Our firm does not hesitate to take on employers who wrongfully terminate or mistreat their employees, and we work tirelessly to protect our workers' employment law rights.
If you believe you've been the victim of discrimination or harassment in the workplace,
Contact a Clarksburg employment law attorney at Goddard Law PLLC at (304) 933-1411 today.
UNDERSTANDING YOUR RIGHTS AS AN EMPLOYEE
The state of West Virginia guarantees workers certain rights. When any of these rights are violated, you may be able to take legal action. First and foremost, it's important that you understand what rights you have. Staying informed is crucial in not being taken advantage of by an employer, coworker, or another individual.
At Goddard Law PLLC, we help workers dealing with an array of employment law issues, including but not limited to:
Sexual Harassment
Wrongful termination
Discrimination based on Age, Race, Sex, Gender, and/or Disability
Retaliation
Hostile work environment
Wage/Hour Laws (i.e., the West Virginia Wage Payment and Collections Act & the FLSA
Breach of contract
Unfair labor practices
We understand that every situation is unique, which is why we take the time to sit down with you and discuss the specifics of your case. We provide free consultations in employment law cases and you are never charged a fee unless we recover for you! Our firm works hard to hold your employer accountable for violating your rights and getting you the compensation that you deserve.
CONTACT OUR FIRM TODAY
At Goddard Law PLLC, we provide our clients with personalized legal representation and aggressive advocacy, both in and out of the courtroom. Our experienced Clarksburg and Morgantown employment lawyer has access to extensive resources and will use their vast skills to fight for the rights of workers throughout the state. Put a skilled legal team on your side—contact Goddard Law PLLC today.
OUR CASE RESULTS
LEARN MORE ABOUT HOW WE'VE HELPED PEOPLE LIKE YOU.
At Goddard Law PLLC, we fight for the full, fair recovery our clients are owed. We've helped numerous individuals and their families
successfully obtain just settlements and verdicts throughout the state of West Virginia.
Our proven track record of success speaks for itself.
CONTACT US TODAY!
DON'T WAIT TO PURSUE THE COMPENSATION YOU DESERVE.